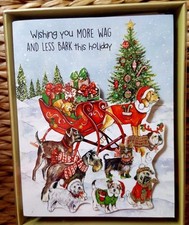 My favorite Christmas card this year says
Wishing you MORE WAG and LESS BARK this holiday.
Hope your holiday is filled with UNCONDITIONAL LOVE.
This is good advice for every single day of the year, whether or not it is a holy-day. In fact, practicing this well wishing–for ourselves and for others–turns every day, every meeting with an acquaintance, every encounter with a difficult person into a holy day, a sacred space of connecting with another person.

The Buddha recommends Noble Friends to keep us on our spiritual path. Sometimes our truest and noblest friend has four legs. Our dog is not judging us; our dog is not discriminating. In fact, we ourselves do not discriminate against black dogs or brown dogs. We love our dog and don't even think about the color its skin (underneath its fur).
We can be our true and authentic self with our dog, and let our own unconditional love flow.
If we catch ourselves barking or grrrr-ing at someone, we know that even though it feels and sounds like anger, our bark actually stems from fear. What are we afraid of? And the person who barks at us–what are they afraid of (even though they themselves may be unaware of it)?
Let's practice wagging our own tail at the next person, the next stranger we see.